Building rentals have been suspended for now due to the COVID-19 crisis.
Northern Lakes Community Church has rooms of various sizes and configurations available for rent by individuals and organizations. Consider NLCC for your wedding, reception, luncheon, dinner, bridal or baby shower, meeting or conference, recital or other special event.
Please call the church at (231) 935-4556 or email the church for more information.
Floor Plan: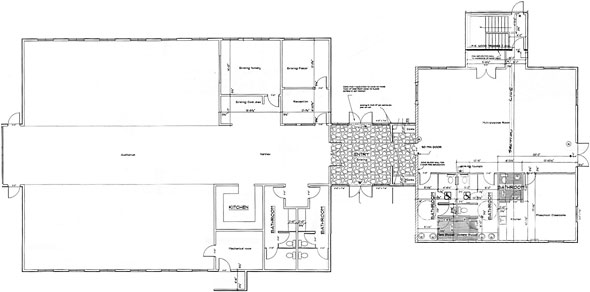 Main auditorium:
3600 square feet
Seating up to 200; 160 at tables (tables and chairs provided)
Attached small kitchen and rest rooms
Adjoining enclosed room with audio from main auditorium; 180 square feet
Addition:
1040 square feet divisible into one, two or three "rooms" using full-height room dividers
Seating up to 100; 80 at tables (tables and chairs provided)
Attached rest rooms with showers
Adjoining enclosed room; 400 square feet