Love Our Neighbors ❣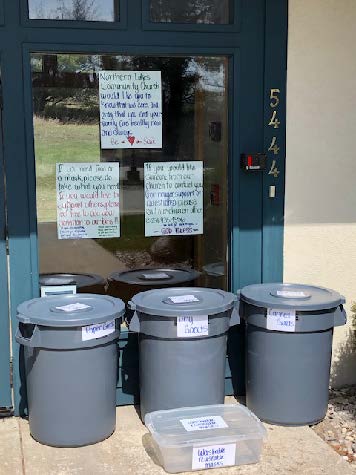 Northern Lakes Community Church wants you to know that we care and pray that you and your family are coping with the changes caused by the COVID-19 pandemic. We pray that you are safe and healthy. If you are in need of food, paper goods, or a reusable/washable face mask, we are here to help.
In front of our church on 5444 Herkner Road (near West High School) we have bins of the following available:
Dry Goods: Such as crackers, cereal, chips etc.
Canned Goods: Stews, vegetables, tuna fish, tomatoes, etc.
Paper Goods: Toilet Paper, Paper Towel, Toothpaste etc.
Hand made face masks to use when you are in public.
Please sanitize anything you take after you get home, as that has not been done.
If you would like to help in this effort…. please feel free to donate by placing your contributions in the correct bin (and thank you!!). If you have any questions, please reach out to us at (231) 935-4556 and we will return your call as soon as we are able.
May God Bless you and bring peace as He offers us his enduring love.
If you'd like to help publicize this outreach effort, you can download and print out this flier and post it on the community bulletin board at your local grocery store, convenience store, etc.